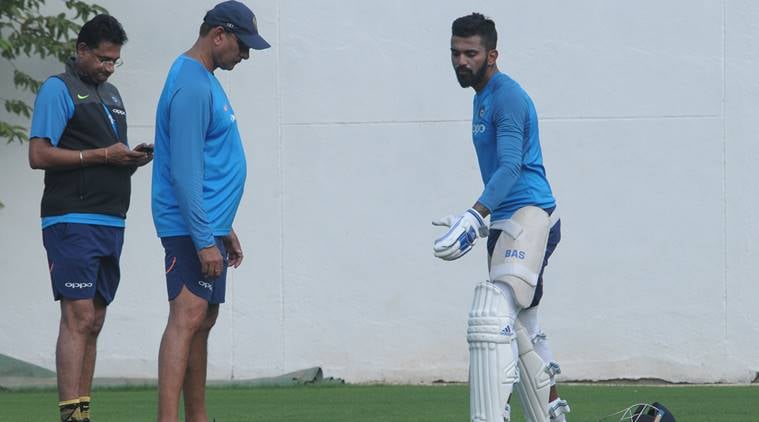 KL Rahul scored 30 runs in four innings in Test series against South Africa. (Express Archive)
India's opening batsman KL Rahul had a disappointing Test series against South Africa. The 25-year old was left out of the first Test in Cape Town but was recalled for the 2nd and 3rd Test at Centurion and Wanderers. In spite of being selected over Shikhar Dhawan in two Tests, Rahul struggled against the dangerous South African bowling line-up. He scored only 30 runs in four innings and failed to give a positive start to his side.
Speaking to Times of India, Rahul, who is not a part of India's ODI squad in South Africa, and has returned to India to play for Karnataka in the Vijay Hazare matches, said, "I've always looked at the positive side. When you are playing sport you know you will have more bad days than good days. You need to take things in your stride and try to learn something new and improve every day."
Speaking about his recent form, the opener said that he needs to spend more time in the middle. "You learn as you play. Ups and downs are part of your career. This is not exactly a down. I am playing well but not able to convert. I am not able to spend more time in the middle. I will find the answer soon. Maybe it takes just one good innings to get the conversion rate better. It doesn't have to be a 150 but even a 50 can help me. I've been working hard on my fitness and game," he said.
Speaking about the challenges he faced in South Africa, Rahul said, "South Africa was a whole new challenge. We expected pace and bounce. I didn't think there would be so much seam movement. The seam movement with pace and bounce was new. It's a deadly combination and you don't want to be an opener when all these things are happening. But it was a good learning experience for me. I know what I need to tweak in my game and where I stand when it comes to my skill."
Rahul had a disappointing run at Vijay Hazare so far, scoring just 3 and 22 runs in the last two matches. "I would have liked to spend more time in the middle. I did get a decent hit in the second match. I will play another match on Sunday and then train for a couple of days before I leave," he said.
Now, with the T20I series set to start in a week, the right-handed batsman was eager to return to South Africa for the series. "I was there for a month and I didn't do too much in the Test series, so I'm looking forward to going there and getting some runs."
For all the latest Sports News.