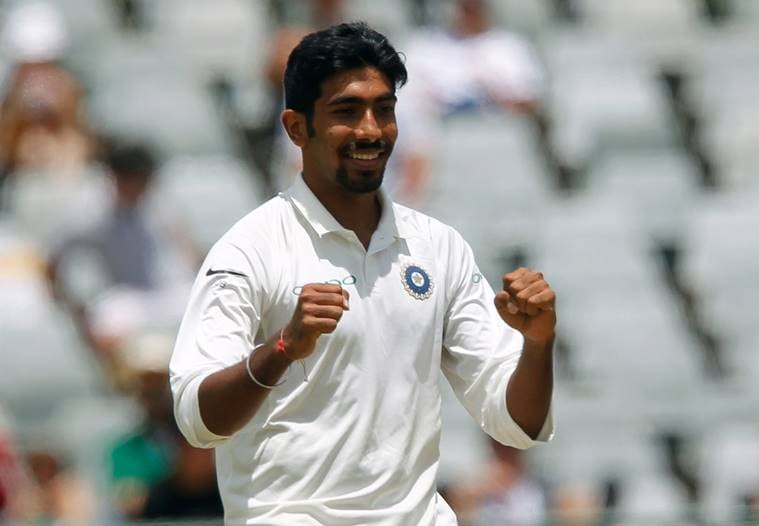 Bumrah was listless on Day 1 at Newlands, but turned it around in the 2nd innings. (Source: Reuters)
"No, nervousness," asserted Jasprit Bumrah, when asked whether he felt nervous on his Test debut. Here was a man pigeonholed as a white-ball specialist and who's hasn't played a first-class for nearly 12 months. But he wasn't feeling any pressure. "It's not like in my life I was playing a first-class game for the first time, I have played a lot of four-day games. There was a discussion that I would play the match, so I was talking to our bowling coach what kind of things I should do, what kind of wickets are over here or what should I expect," he revealed.
But despite his immense self-belief and a perceptible lack of stage-fright, it took him some time getting used to the conditions, and hence looked a trifle out of depth in the first innings. "It's always challenging whenever you come to a new country, the wickets are different, the weather is different," he said.
He, however, didn't shirk away from the challenge, and made quick amends in the second innings. "It's always good to face new challenges. As you play more and more, you get to know a lot about the wickets, you get a fair idea about where to bowl and what kind of lines to bowl. You know that sometimes the wicket over here is bouncy but as soon as you play the first match, you see it's a flat wicket and then you have to adapt accordingly. So this is my basic plan always—never go by perceptions that this will happen and this won't happen." he said.
If in the first innings, he was guilty of bowling a little too full, rather than hit the deck hard as he customarily does in first-class cricket back home, he found his bearings in the second innings and nabbed three wickets. The most defining of them was the pearler that consumed South Africa skipper Faf du Plessis, the ball rearing up awkwardly to brush the batsman's gloves to the keeper.
The marked difference was the length, as he began probing batsmen with back-of-length deliveries. He revealed as much: "In the first innings we thought we bowled a little fuller than the normal because in India the wickets are different where we have to pitch fuller to get the swing and to get the batsmen on the front foot. Over here there is bounce, there is a little bit of difference. We analysed that and tried to adapt that in the second innings."
Despite making a decisive impact in the second innings, especially nailing the vital scalps of du Plessis and AB de Villiers, he specifies he's not getting carried away. "It is not a dream debut. What ever I learnt from first match I was happy as a bowler. As a bowler you look to get his first wicket as early as possible and I got AB. It was happy, and from there on we took lot more wickets. Not to get too excited and not to get too down after every match is my motto and take the confidence into the next match," he said.
He was also buoyant of the team bouncing back in the second Test that starts on Saturday. "Confidence doesn't dent after one match. If it happens, then you don't deserve to play. Learn from the mistake you made and go forward. There is not a single cricketer who has not made a mistake. You keep learning and you keep improving all the time. We are trying to rectify our mistakes and move forward," he said.
He too has benefited from Bharat Arun being the bowling coach. "He has seen me since the time I walked in as a U19 boy at the NCA where he was the coach. He knows me and gives me good advice. He knows my bowling and as a player it is good to have a coach who knows my strengths and weakness," he observed.
Breaking stereotypes
Thus in his very first international outing in whites, he broke quite a few stereotypes about him and the doubts about the durability of his action too in this format. "I am used to bowling with this action for a long period of time, so it's not that I am putting extra pressure on my body. Yes, obviously if you bowl fast, it takes a toll on your body. Any action, even a good proper action takes a toll on your body. So you can't generalise and say because of this action, you are putting too much stress on your body. But yes, you always try to focus on your strengths, whatever you have. So, I was just trying to focus on that and execute things," he elaborated.
Though he was non-committal on the nature of the Centurion strip, he felt there could be sufficient bounce. "We are focusing on our preparation for as wicket go, I have not played over here and as far as net wicket goes, there is lot of bounce," he said. If indeed the strip is on the bouncier side, expect his eyes to lit up.
For all the latest Sports News.