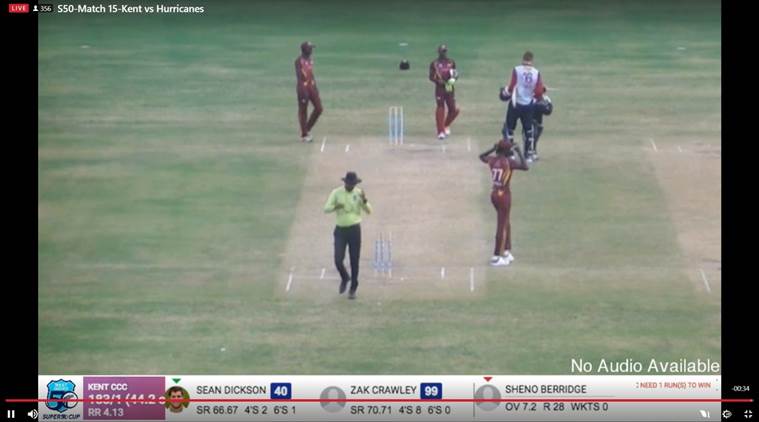 Zak Crawley was left stranded on 99*.
When a batsman is in the 90s, and the opposition just needs a few runs to seal the victory, it is considered to be unsportsmanlike if the bowlers tried to misfield and give extras to block the batsman from scoring a century. Something similar happened during a Group B match of Regional Super50 tournament between Leeward Islands and Kent. The match which was played at North Sound in West Indies on Tuesday, saw Islands setting their opposition a meager target of 184 runs to win.
Coming in to bat, opening batsman Zak Crawley went on to reach 98*, with the side just needing 4 runs to win and he needing a couple of runs to score his maiden List A century. The 20-year batsman was on strike as Islands seamer Sheeno Bridge came into the attack. With Kent at 180/1, the match was all but over for them. But Bridge, in a bid to block Crawley's ton, bowled a couple of wide deliveries outside off stumps. The third delivery was too pitched outside off, but Crawley managed to get bat on it and take a single and put Sean Dickson on the strike.
a fantastic win by Kent against the Leeward Islands, as @zakcrawley is denied a deserved hundred by a couple of wides in the final over and finishes a superb innings on 99 not out pic.twitter.com/zbSFKGY2Ws

— Martin Shaw (@shawma1) 6 February 2018
With Kent needing just a run to win, Dickson tried to play out the rest of the over so that he could ensure his partner could reach the milestone. On the last delivery of the over, the right-hand batsman pushed the ball towards midwicket. Crawley, not bothered about his century, called for a single, but was refused by Dickson. But his gesture went in vain as Islands fielder reportedly allowed the ball to reach the boundary, and ensured that the match gets underway, leaving Crawley stranded on 99*.
After Kent went on to win the match by 9 wickets, Crawley was awarded the man-of-the-match, while Islands faced heavy backlash for their action.
For all the latest Sports News.